Born 1969. Lives and works in Copenhagen.
Educated at The Royal Academy of Fine Arts, Copenhagen, Denmark 1993-98 and Goldsmith's College of Fine Art, London, England 1995-97.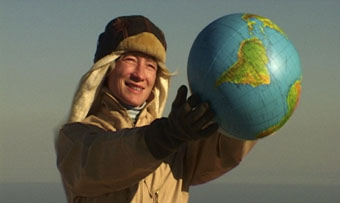 Over the past ten years, Simone Aaberg Kærn has had the sky and flight as her recurring theme in a series of videos, installations, and works of performance art – often in combination with a historical and social representation of the woman as subject.
Her theme is the battle for free airspace and our dream of being able to fly – of looking up to the sky and just taking off. Aaberg Kærn has done just that – she has flown her own plane right into the war zone in Afghanistan. The plane was a forty-year-old single-engine Piper Colt 108.
In collaboration with Magnus Bejmar she has made a movie for cinema "Smiling in a War Zone", 2005 that has received several nominations and awards at international film festivals.
In 2006 Simone Aaberg Kærn presented a retrospective entitled OPEN SKY at Malmö Konsthall, Sweden. View panoramas from the show here:
panorama 1
panorama 2
Excerpts of preface by Lars Grambye, Jacob Fabricius & Lotte Juul Petersen
from the exhibition catalogue SIMONE AABERG KÆRN: OPEN SKY, Malmö Konsthall (Sweden) 2006
In the early 1990s Simone Aaberg Kærn began working with projects relating to surveillance and control. This, however, soon turned into a fascination for the unreachable and impossible task of floating: flying in the space. Through animated flying videos, such as Air (1994), wanna fly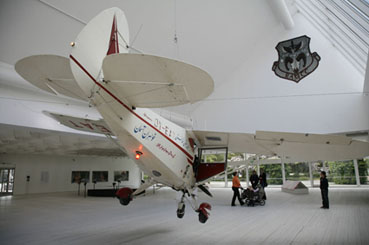 Exhibition view OPEN SKY, Malmö Konsthall, Sweden, 2006.
(1995), and Royal Greenland (196), Simone Aaberg Kærn investigated and soon found a symbolic free space in the air. At first, it was animated spaces, in which she flew across the skies of Copenhagen, New York and Greenland seeking the limits of gravity and individual unassisted human flight. Soon after Simone Aaberg Kærn achieved her own flight certificate in order to produce the work, Sisters in the Sky. This was demanded by Anne Noggle, one of the female pilots, who also was portrayed in the work Sisters in the sky (1997). Simone Aaberg Kærn's painted portraits of female fighter pilots from Second World War was shown at an acquired by Louisiana Museum of Modern Art, Humlebæk. Sisters in the sky is an impressive aesthetic and intellectual peephole of how women at that time could realize their dream of flying in a time of hardship. In the painting and sound installation, Simone Aaberg Kærn narrated their stories with a poetic, political and feministic gesture and introduced the notion of aero feminism – an aero feministic sisterhood across cultures and generations.
One of Simone Aaberg Kærn's most spectacular projects started in 2002. One day the artist read an article in a Danish newspaper about the girl Farial from Kabul in Afghanistan. Farial's greatest wish was to become a fighter pilot. Simone Aaberg Kærn had no doubts; she had to attempt to reach her and show her how to fly.
In Micro-Global Performance (2002-03) Aaberg Kærn took off in her fragile Piper Colt flight from Little Skensved, Denmark, to Kabul, Afghanistan. Micro-Global Performance is produced in collaboration with Magnus Bejmar. They flew across borders; crossing the enormous mountain range Hindukush (the Hindu Killer) to Kabul with the risk of the American Air Force would attack them. In the film Smiling in a War Zone (2005) Simone Aaberg Kærn crosses war zones and defies the military power in order to make contact to the girl Farial. She risked her own life so she could give Farial a journey in the air. In the film Farial flies the plane over Kabul.
From a global perspective, the sky and the airspace are a place of battles – over power, prestige and politics. At the same time, the sky is a place of refuge for individuals, a place onto which you may project your own wishes and dreams.
© The authors
Print